Live Professional Boxing: Thomas Vs Gonzalez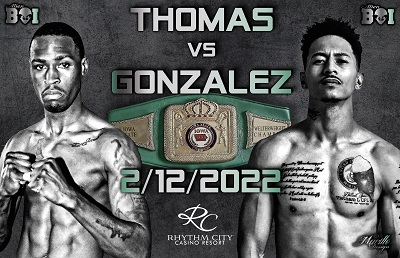 Two undefeated locals will battle for the belt in an 8-round Main Event for the Iowa State Welterweight title. Davenport's Travis "2-Face" Thomas the slick fighter with a record of 9-0 will challenge for the state 147-pound crown as he takes on the hard punching undefeated warrior, Daijohn "The Gladiator" Gonzalez, originally from Seattle Washington, who is 3-0 in his pro career.

Thomas out of Penas Boxing Davenport is no stranger to the local boxing scene, having won all nine of his professional bouts after a respectable amateur career. Thomas is a Student Support Specialist at Smart Jr. High and spends his time assisting students with their grades, behavior and an assortment of duties as he is a mentor to the youth of the QC. "Its' my calling. I feel it's my duty to give back to the kids." Thomas stated about his position outside the ring. Inside the ring Thomas is a different type of person when it comes to fighting, training and his outlook on his February 12 title fight. "You have to trust the process because the process doesn't lie, doesn't cheat and makes you humble and always produces results. Be phenomenal!" This is the game plan for "2-Face" Thomas.

Daijohn Gonzalez, undefeated in his 3 professional fights out of Beaslys Boxing Davenport, looks to showcase his skills in hopes of landing the State Title. Gonzalez has a huge following in the regional music scene as a rapper having released an album and several mix tapes along with dozens of live performances. Thomas has the ring experience over Gonzalez but that doesn't stop this young fighter's drive. "I feel like I'm rookie of the year!" proclaims Gonzalez. "Went from 0-0 prospect, to a potential 4-0 welterweight champion all within one year of my first bout. I feel that's a huge accomplishment".

Tickets are $35 for General Admission, $70 for front row reserved and $55 for other reserved seating. Tickets in the ADA seating is available in every section and a Rhythm City Casino Resort team member will assist should ADA seating be needed.