Tammy Pescatelli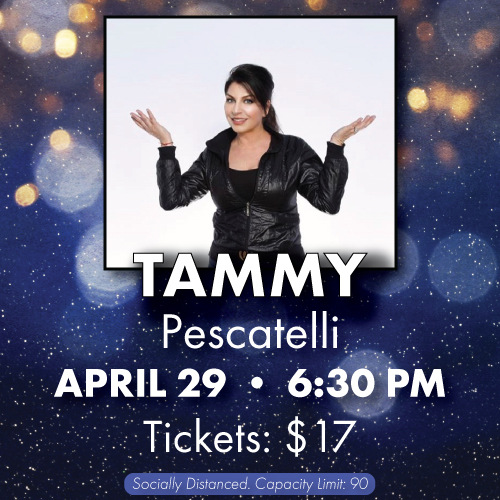 Due to the COVID-19 Pandemic, this show has been limited to 90 seats. We have reconfigured our seating to allow for at least 6 feet of distance between groups while they are seated. We kindly ask when you leave your seat to maintain social distancing guidelines and/or wear a mask.
Seats must be purchased in tables of 2 or 4.
All seating is done on a first come, first sat basis.
Arguably one of the hardest working women in comedy today, Tammy Pescatelli brings brassy sexiness with a bold voice of witty sarcasm to her audiences, holding her own on the topics of sports, television, dating and family life using tongue-incheek humor. She is relatable to every audience member-male & female. After seeing Tammy perform, nearly everyone wishes she was their best friend or sister! "Tammy Pescatelli's :Way After School Special", her new special, is a highly anticipated follow up to Tammy's award winning one hour Netflix (now Amazon Prime) special, "Finding the Funny." Release date March of 2020. Also in March 2020, Tammy will appear on the highly acclaimed Showtime Comedy Special, "Women Of A Certain Age 2". Tammy was chosen to be one of the few hosts of a new network, Circle TV's standup show called "Standup Nashville: Live From Zanies". The network's launch is January 2020.
The clip from Tammy's appearance on the "Just For Laugh's Gala with Sebastian Maniscalco", continues to climb in views on the JFL Facebook and Youtube page garnering close to 50 million views collectively. Signed to Git R' Done Records, Larry the Cable Guy's label, Tammy took funny back in time with her successful 2019 album release, "#TBT: THROWBACK TAMMY". #TBT debuted at the coveted number 2 spot on the iTunes and is in continuous play on SiriusXM, Pandora and many others Tammy has had recent big appearances on The View, Guy's Grocery Games:Comics Compete and The Howard Stern Show and her being chosen by Jenny McCarthy & Donnie Wahlberg to be a part of their Dirty, Sexy, Funny franchise that included a hilarious all-female slate of standup comedians comedy special on EPIX/ Hulu, a touring show and a pilot for A&E. With a slew of other accolades under her belt – including co- creating, executive producing, writing and starring in her own reality show, A Stand-Up Mother, on the WeTV Network – Tammy has appeared on a number of television shows like The Tonight Show with Jay Leno (4x), A&E's Donnie Loves Jenny(twice), Bravo's Rocco's Dinner Party, CBS's The Talk,NBC's Last Comic Standing: The Best of the Best, her own Comedy Central Present Special that won that year's Comedy Central's Standup Showdown, and many, many more.
Age Restriction & Seating Policy: This show is open to those 21 years or older with a valid photo ID. Our bar opens thirty minutes prior to show time. Seating begins thirty minutes prior to all shows. You must bring a valid photo ID to be admitted as our Rhythm Room is on the casino floor.
If you require ADA seating, please see a Rhythm City Casino Resort team member upon arrival. A valid photo ID is required to pick up your tickets. Tickets are available for pick up at The Market gift shop during normal business hours from date of purchase until performance time.